Why "Blindspotting" is this Summer's Must See Movie
Posted by NALIP on July 06, 2018
Read why "Blindspotting" is this Summer's Must See Movie... 
1. It Premiered at the 2018 Sundance Film Festival
Photo Courtesy of Chris Pizzello/Invision/AP
Blindspotting was the opener of the Sundance Film Festival, leaving such huge impressions that they earned praise like Variety's description of it being "the most exciting cinematic take on contemporary race relations since the 'Do the Right Thing' movement 30 years ago." Nominated for Sundance's grand jury price, the film's global distribution rights have been purchased by Lionsgate who will be premiering the film on July 20th at selected theaters and an extended nation wide release on July 27th.
2. Tackles Important Social Justice Issues
Photo Courtesy of Blindspotting
Unafraid to voice some of the social injustices that are going on in the world today, Blindspotting is a film full of comedy and drama, containing powerful scenes with police brutality, racism, gentrification and class conflict. Far too complicated for a single film to tackle, these issues are conveyed by the characters posing important questions to think about, relying on their wit and charm to present controversial topics in a new, refreshing way. 
3. Artistic Use of Comedy When Addressing Serious Issues
Photo Courtesy of Blindspotting
Director Carlos López Estrada wanted each scene to keep his audience entertained and laughing. Using comedy to confront controversial topics, Blindspotting puts a comedic twist on serious issues. 
4. Raising Awareness of Toxic Friendships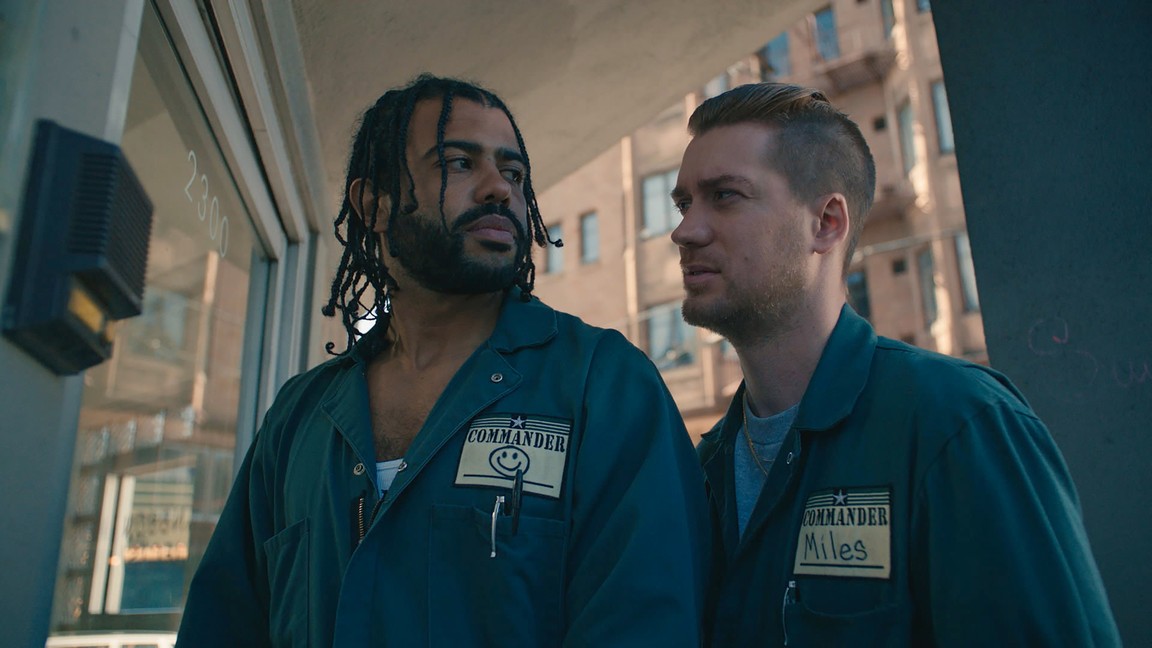 Photo Courtesy of Blindspotting
Many people in today's society are so caught up in the idea of "friendship." However, what happens when that friendship becomes toxic? In the film, Collin finds himself in a situation with his best friend, Miles who is constantly looking for trouble on the street. After a year-long of probation, Collin decided that he has to put his criminal past behind him while served his last three days of probation. However, Collins realized that hanging with Miles will most likely bring him back to his past. Now, Collin must decide whether or not he should continue the friendship with Miles or end it.
5. Amazing Critic Reviews
So far Blindspotting has received a 93% on Rotten Tomatoes. The film has earned many praising reviews, including Variety's, Peter Debruge acknowledging that "Blindspotting encourages audiences to look beyond surface prejudices and really see their fellow citizens for the first time. If ever there was a film to open American's eyes, this is it."
The exclusive Screening of Blindspotting will take place on July 9th at The Landmark (10850 Pico Blvd, Los Angeles, CA 90064). The screening is for NALIP members only, limited seating, and on a first come first serve basis.
Become a member today here!
About NALIP
For over eighteen years, The National Association of Latino Independent Producers (NALIP), stands as the premier Latino and diverse media organization, addressing the most underrepresented and largest ethnic minority in the country. NALIP's mission is to discover, promote and inspire Latino content creators and diverse voices across all media platforms. NALIP serves the needs of diverse content creators including, producers, performers, writers, directors, and industry professionals.