Partner News 5/21/21
Posted by NALIP on May 21, 2021
Check out our partner news for the week of 5/20/21! 
Starz And UCLA Release Nationwide Survey Affirming Demand For Industry Representation
Starz's initiative to create a deeper commitment to diversifying storytelling  about women and underrepresented audiences led them to conducting a Nationwide Survey with UCLA's Center for Scholars & Storytellers. The study called, "Give The People What They Want" surveyed adults between the ages of 18 and 54 and found that number on force that drives audience's to watch a show based on the diversity of the cast and creators behind the show. 60.4% of respondents said that diversity behind the camera is important, while 49.1% noted the importance of having women behind the camera. Jeffrey Hirsch, Starz President and CEO said, "We will remain deeply committed to our existing mandate and will continue to improve our industry leading representation on screen, behind the camera and throughout our organization."
Click here to read more about the study.
---
Women in Animation Launches Global Toon Talent Database
Courtesy of Variety
More than 5,000 women, trans and non-binary candidates have been featured in the Women in Animation newly launched WIA Talent Database. The WIA Talent Database is designed to help ensure studios are able to have diversity of their productions. WIA president Marge Dean states "Increasing the visibility and accessibility of women will make it harder to deny our existence. In other words, the statement, 'I'd love to hire women, but I don't know where to find them will no longer be acceptable". Read more on Variety about how the WIA Talent Database is a step-forward for a more diverse Hollywood.
---
Firelight Media Documentary Lab Open Call 2021
Firelight Media is looking to support emerging, visionary nonfiction filmmakers who are telling new narratives about the most pressing issues of our time through its flagship Documentary Lab. The Lab is an 18-month fellowship program that supports filmmakers from racially and ethnically underrepresented communities residing in the United States, Puerto Rico, and other U.S. territories who are working on their first or second feature-length documentary film. The Documentary Lab provides filmmakers with a $15,000 grant toward their projects as well as customized mentorship from prominent leaders in the documentary world, professional development workshops, and networking opportunities.
Apply now through June 15 here!
---
Registration for LALIFF's Industry Pass is now open!
All film professionals, including (but not limited to) sales agents, buyers, producers, production executives, craftspeople, financiers, festival programmers, film commissioners, film publicists, and exhibitors are welcomed to apply. 
The cost of registration is $50 until May 15th.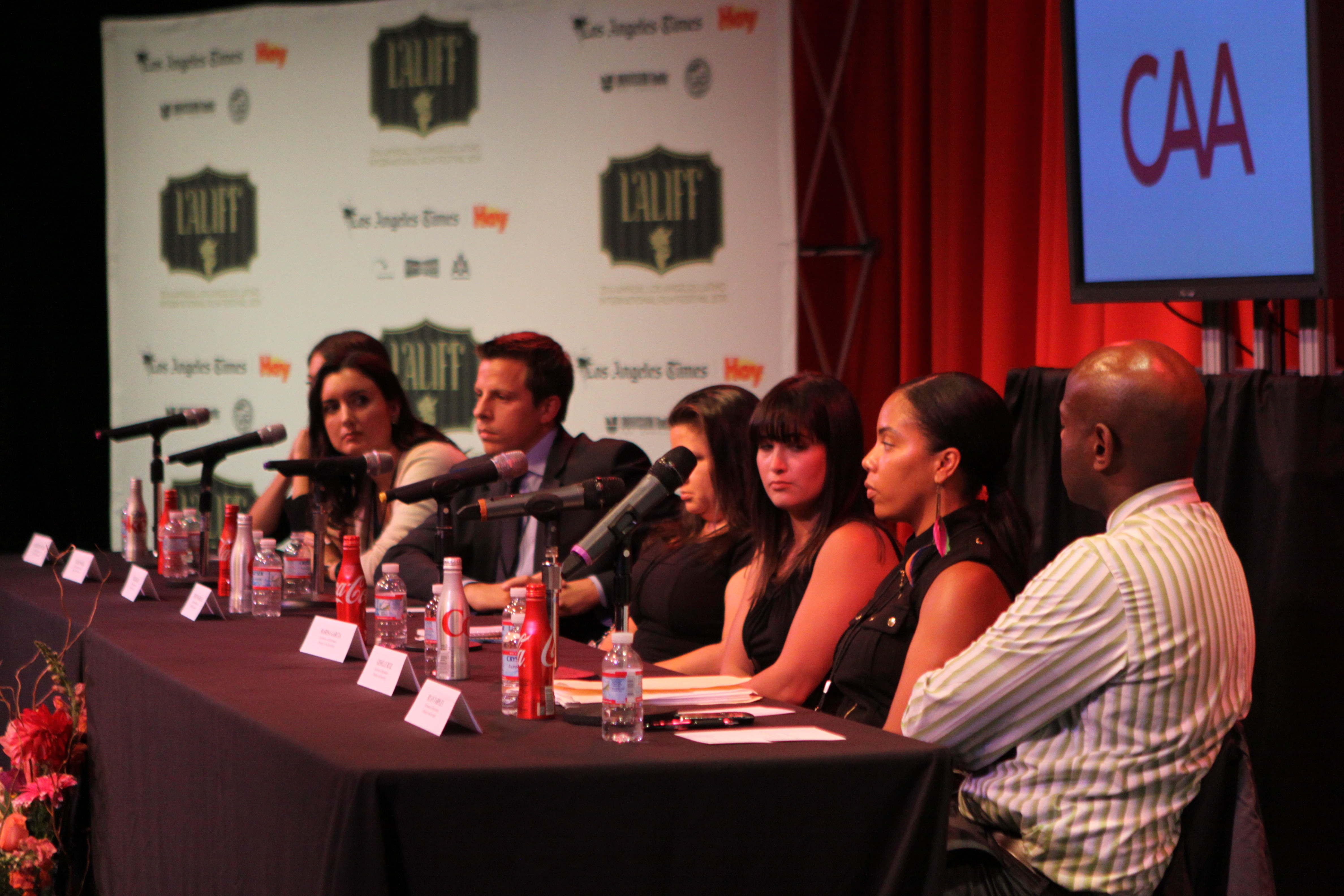 Registration for LALIFF's Press Pass is now open to all media until Monday, May 17, 2021. The Press Accreditation gives you access to all the VIRTUAL screenings of the festival. Click here to REGISTER
---
Telemundo Launches New Studios To Develop Streaming Content For Latino Audiences
Telemundo Center in Miami. TELEMUNDO
NBCUniversal Telemundo Enterprises is launching a new unit exclusively dedicated to developing and producing premium original scripted content for VOD streaming. The company says Telemundo Streaming Studios will address the growing demand of Latino audiences in the U.S., as well as expand international licensing opportunities. "Latinos are pacesetters of cultural and technological change," says Beau Ferrari, Chairman, NBCUniversal Telemundo Enterprises. "Telemundo is shaping a new era in Hispanic media with the creation of the first-of-its-kind streaming studio."
Read more on Forbes
---
Latino Public Broadcasting Wants To
Fund Your Project!



LPB'S 2021 Funding Cycle Now Accepting Applications

Calling all filmmakers! The 2021 LPB Funding Cycle is open and they're accepting applications for three distinct funding initiatives -- the Current Issues Fund (CIF), Public Media Content Fund (PMCF) and Digital Media Fund. LPB is looking for filmmakers with great stories, fresh ideas and strong story-telling skills. They're looking to fund a wide variety of projects that celebrate and reflect the diverse Latino experience and bring new audiences to public media. These can be documentaries or fiction, full-length or short, traditional or digital media. 
Learn more and apply here!
---
Sundance Institute Announces 21 Fellows Selected For 2021 Episodic Lab
Courtesy of Sundance Institute via Deadline
 Sundance Institute has announced the 21 fellows and 18 projects they have selected for their first-ever, multi-track Episodic Lab, which is being held virtually. The 2021 Lab has been designed as an immersive two-part experience where fellows were divided into either the "Idea to Pilot Track," in which they developed an original pilot from an early idea through to a completed draft, or the "Series Track," in which they workshopped an existing original pilot and develop a professional series pitch to sell.
Read more about the Episodic Lab and the projects selected on Deadline
---
USC Report Finds That Lack of Movie Roles and Stereotypes for Asian American & Pacific Islanders
Courtesy of Deadline
A recent report from USC's Annenberg Inclusion Initiative had discovered that only 5.9% of the 51,159 speaking roles in the 1,300 top grossing movies from 2007-2019 were played by Asian American and Pacific Island actors. An even more shocking revelation is that only six movies were featuring an API woman as the lead or co-leading role. Despite Chloé Zhao recent Best Director Oscar, there still needs to be work done on API representation in the entertainment industry. Check out Deadline to read more USC's study about the lack of API representation in Hollywood.
---
Netflix Animation is looking for a Showrunner!
Netflix Animation is developing a series of animated vignettes set to music for preschoolers.
We are seeking a Showrunner to manage this short-form animated series. This is a fast-paced position focused on liaising with the show creator, executive producers, talent agents and managers, and studio executives. Music experience is key—you'll work with composers and music producers to commission songs for the series. You will be responsible for rallying top talent and fostering artist relationships while meeting deadlines and maintaining the creative vision of the show from start to finish. 
Click
here
to Apply and learn more about the qualifications!
---
Telemundo Promotes Juan Ponce to SVP and General Manager of Telemundo Streaming Studios

Courtesy of Ivan Apfel/Telemundo
Juan Ponce, SVP of production operations and strategy for Telemundo Global Studios, has been promoted to SVP and general manager of the recently launched original scripted content venture Telemundo Streaming Studios, which seeks to fulfill the growing needs of Latino audiences on direct-to-consumer platforms. The initiative, which only just had its ribbon-cutting earlier this May, is the first-ever studio of its kind exclusively dedicated to Hispanic SVOD media in the U.S. and around the world. Read more on Variety.
---
P&G, GLAAD partner on initiative to help hesitant advertisers refine LGBTQ messaging
Courtesy of GLAAD
Procter & Gamble,  one of the largest advertisers in the world by media spend, is partnering up with GLAAD to present The Visibility Project. This initiative seeks to help advertisers and agencies develop more authentic and inclusive messaging strategies. It will serve as a resource for industry best practices and thought leadership around LGBTQ representation. P&G and GLAAD previously collaborated on a study in 2020 that claimed to be the first to measure how non-LGBTQ consumers in the U.S. respond to LGBTQ portrayals in media.
Read more here!
---