Partner News 12/27/21
Posted by NALIP on January 11, 2022
Check out our latest Partner News!
The
 

Roy W. Dean Film Grant

 

for Spring 2022 is now open for submissions

The Roy W. Dean Film Grant for Spring 2022 is now open for submissions. Since 1992, the Roy W. Dean Film Grants have supported independent filmmakers by awarding funding to unique films that make a contribution to society.  From the Heart Productions, the non-profit sponsoring the grant is proud to have helped talented filmmakers complete films that impacted people's lives and to have seen many of those filmmakers go on to have great filmmaking careers.

The grant is open to documentaries, narrative features, short films, and web series.  Films must be unique, make a contribution to society, and be budgeted at $500,000 or less.  Students are welcome to apply.

The winner of the Roy W. Dean Film Grant for Spring will receive $3,500 in cash and thousands more in donated film products and services including 40% deduction on color, editing, and sound & all production services from ProMedia NYC, 30% discount in equipment rental from AbelCine Tech, Inc. NYC, $1,600 value/sound mix session from Silver Sound, and more from many heartfelt donors.

Filmmakers can apply at http://fromtheheartproductions.com/grant-application-form/. The deadline for submission to the Roy W. Dean Film Grant for Spring is March 30th, 2022.

Every Filmmaker Gets Help for Their Project by Just Applying
---
Sundance Cancels In-Person Events, Moves Film Festival Online Amid Omicron

Courtesy of AP
The in-person return of the Sundance Film Festival has been canceled due to the surge of COVID-19 cases spurred by the omicron variant, with the festival moving completely online. The news comes 15 days prior to the festival's start date of Jan. 20. The online festival will begin on Jan. 20, as previously planned, with screening schedule adjustments being made for now on the virtual-only schedule. 
Sundance's organizers stated, "While it is a deep loss to not have the in-person experience in Utah, we do not believe it is safe nor feasible to gather thousands of artists, audiences, employees, volunteers, and partners from around the world, for an eleven-day festival while overwhelmed communities are already struggling to provide essential services."
Read more here.
---
KidNation Co-Founder Chris 'Ludacris' Bridges to Give Keynote at BRIC Summit on Diversity and Inclusion
Courtesy of KidNation
Musician, actor and KidNation co-founder Chris "Ludacris" Bridges will give the opening keynote address at the fourth annual BRIC Summit, set for Feb. 11 and 12. The summit is presented by the BRIC Foundation, an organization dedicated to increasing representation in the entertainment and gaming industries. Bridges is the co-founder of KidNation, an interactive platform for children to enjoy kid-centric, educational entertainment. His remarks will open the summit on its Industry Day.
Read more here.
---
AFI Awards Postponed To Later Date Due To Concerns Of Rising Covid-19 Cases
Courtesy of AFI
The American Film Institute (AFI) announced today that  the AFI AWARDS luncheon is postponed. The Luncheon was scheduled to take place on  Friday, January 7, but due to concerns over the rising cases of Covid-19,  AFI will reschedule the event for a later date. 
"The goal of AFI AWARDS is to bring together the creative community at a private event founded in hugs and handshakes," said Bob Gazzale, AFI President and CEO. "Because that goal is not achievable at this time, we will be postponing the event until we can properly celebrate the artists in a manner worthy of the gifts they have given the world."
Read more here.
---
Events Platform Bizzabo Inks 30K-SF Deal at 50 West 23rd Street
The virtual and in-person event software firm Bizzabo snagged 30,471 square feet at Two Trees Management's 50 West 23rd Street in the Flatiron District.
Bizzabo is moving just a few blocks from the 10th floor of 31 West 27th Street — provided by the now-bankrupt flexible coworking brand Knotel — to the entire ninth floor at Two Trees' 341,000-square-foot building between Fifth Avenue and Avenue of the Americas, according to a representative for the landlord. Two Trees declined to comment on the asking rents in the five-year deal.
Read more here.
---
AMC Entertainment Takes Over Two More Arclight Cinemas And Pacific Theatres – In LA, Chicago
Courtesy of AP
Giant cinema chain AMC Theatres said it's reached lease agreements and plans to reopen theatres in the Los Angeles and Chicago markets — beginning operations at AMC Northridge Fashion Center 10, a Pacific theatre, in Northridge, Calif., in the and at the AMC Chicago 14, formally an Arclight location in the Lincoln Park neighborhood, under their new names in spring of 2022.
Read more here.
---
Happy Holidays from SXSW: Announcements, Merch Sale & More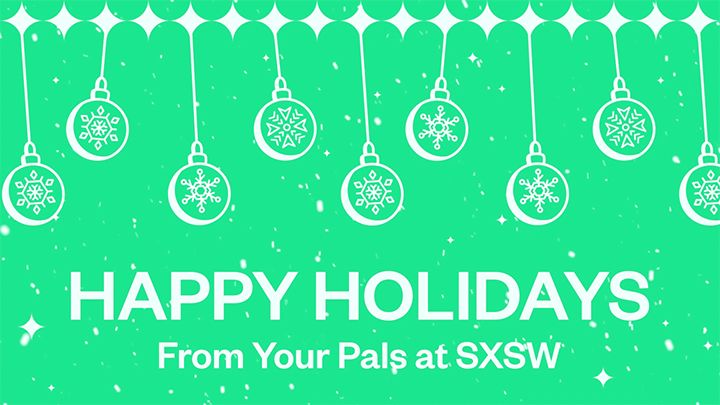 Before we dip into the egg nog (and queso) and let visions of sugar plums dance in our heads for the holidays (and by sugar plums, we mean BBQ tacos), take a stroll through the latest programming announcements, Holiday Hits playlist, SXSW Merch sale, and details on registration for SXSW 2022 in Austin, TX and online from March 11-20.
Deep in the heart of SXSW, there is a lot to discover from the world's of tech, film, music, and beyond across our 2022 slate of programming for the Conference and Festivals.
Read more here.