NALIPsters Films Screen at FICG in LA
Posted by NALIP on November 02, 2017
Photo courtesy of FICG in LA
Congratulations to our NALIPsters who will be screening their films this Saturday at the Guadalajara International Film Festival (FICG) in Los Angeles, taking place in the TCL Chinese 6 Theaters in Hollywood.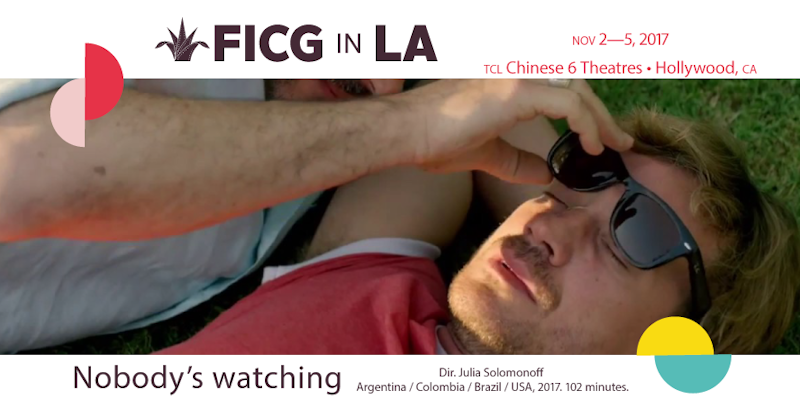 Photo courtesy of FICG in LA
Elisa Lleras (co-producer) and Pau Brunet (producer) will be screening "Nobody's Watching" (Nadie Nos Mira).
Elisa Lleras has extensive experience both as a creative and line producer in scripted content. Having graduated from Columbia University with a Master of Fine Arts in Creative Producing, Elisa has line produced features such as Frankenstein, , Camino, and the upcoming We Are Boats. Elisa has produced for La Panda Productions and Spectrevision / Company X. 
Pau Brunet is the co-founder of LA-based La Panda Productions, and a producer with over 10 years of experience in development, international sales, and production. Pau is an executive producer on the films "Open Windows", "10,000KM" and "People You May Know". Pau doubles his work as a producer with the box office, marketing, and development analyst in Spain and States. 
The film "Nobody's Watching" tells the story of an actor in Buenos Aires who moves to New York City for a promised role and a new start. When the project stalls he chooses menial work rather than give up on his acting dreams, a decision that puts him on the level of any other struggling undocumented immigrants, despite his whiteness and connections to the privileged. When he loses the trust of a generous friend, his life unravels, ultimately leading him to reconcile his imperfect situation back home with the harsh reality of an uncertain future in the U.S. "Nobody's Watching" will be playing on Friday, November 3, at 6:45 pm. You can get tickets here.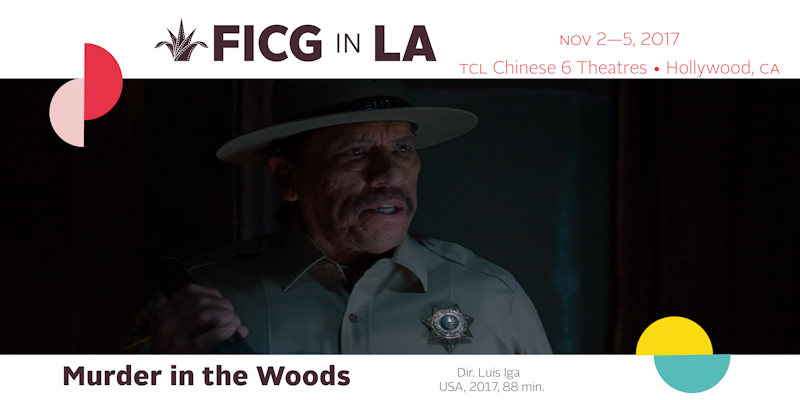 Photo courtesy of FICG in LA
Yelyna De Leon (writer) and Luis Iga (director) will be screening their film "Murder in the Woods", a film starring Danny Trejo. 
Yelyna De Leon is an award-winning Writer, Producer and Actress. As an actress, she can be seen in several television series such as Shameless, Bones, Ray Donovan, A Better Life and East Side Story. Behind the scenes, Yelyna is committed and her work focuses on non-stereotypical characters for Latinos and strong female characters. Yelyna is a 16/17 NALIP, Univision writing fellow where her one hour drama, Las Fresas de East L.A. is a finalist in contention for an 85 episode order. She is also a 2015 NHMC, ABC/NBC writing fellow. You can read more about her in our #WeAreInclusion profiles here. 
Luis Iga is an award-winning filmmaker born in Saltillo Mexico. Mr. Iga received an MFA in Film and Television Production from the renowned School of Cinematic Arts at USC. Mr. Iga founded the production company REZINATE Entertainment where he holds many projects in TV and Film and is in talks with production companies and studios to make them a reality.
"Murder in the Woods" tells the story of a murder that occurred on a dark, cold night in 2006, in a cabin in the woods. The Police called it a murder-suicide. The case was closed but the dark secrets surrounding this horrible incident are still very much alive in the haunted cabin to this day. Nine years later, a group of teens plans a weekend, birthday trip to the very same cabin where the murder happened. Creepy omens start to arise as soon as they leave for their trip. "Murder in the Woods", will be playing on Saturday, November 4 at 2:15pm. You can get tickets here.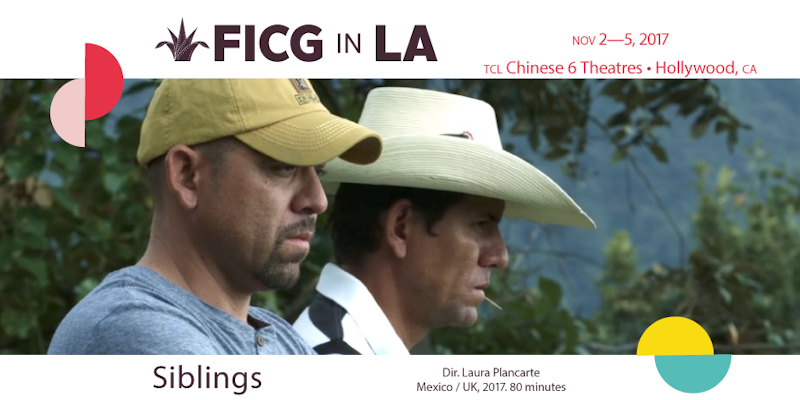 Photo courtesy of FICG in LA
Laura Plancarte (director) will be screening "Siblings" (Hermanos).
Laura Plancarte has worked in a diverse range of mediums including; film, performance and video installation creating interdisciplinary live projects displayed in Museums and cultural spaces in Mexico City, Barcelona, Florence and London. In 2006 and 2007 she was awarded a grant from BNP Paribas and she has also been sponsored by the Mexican cultural institutions: La Colección Jumex, La Fundación del Centro Histórico, UNAM and Secretaría de Cultura del Estado de Jalisco. Today her main working medium is film.
The film tells in the parallel narrative the story of two Mexican brothers that want to return to the US after being deported and the story of an American woman who lost her house due to the worldwide economical crisis and believes she can get it back through Trump's promises. Both journeys lead them to their past and relatives who they believe can help them achieve their American dream. Immigration has been shown in many ways, but it has never been presented through the lives of Mexicans and Americans who live in similar situations due to poverty and lack of family structure. "Siblings" will be playing on Saturday, November 4, at 2 pm. You can get tickets here. 
Photo courtesy of FICG in LA
Ángel Estrada Soto (director) and Inti Cordera (producer) will be screening "They Called Me King Tiger / Me llamaban King Tiger" on Friday, November 3, at 3:30pm. The film is set in June of 1967, where the court of Tierra Amarilla, New Mexico, was assaulted by armed men under the command of Chicano leader, Reies López Tijerina. The outcome of such bold action, was the largest manhunt in the recent history of the United States. Tijerina managed to survive prison, a psychiatric hospital, and several assassination attempts. The Chicano movement faded away, and everyone thought the same as Tijerina. People speak of him as a saint, an illuminated man, a man looking for a fair cause through violence.